New Rap Albums a Hit and a Miss
Post Malone breaks new ground while J.Cole takes risks that don't pay off.
September 12, 2018
New Rap Album a Hit and a Miss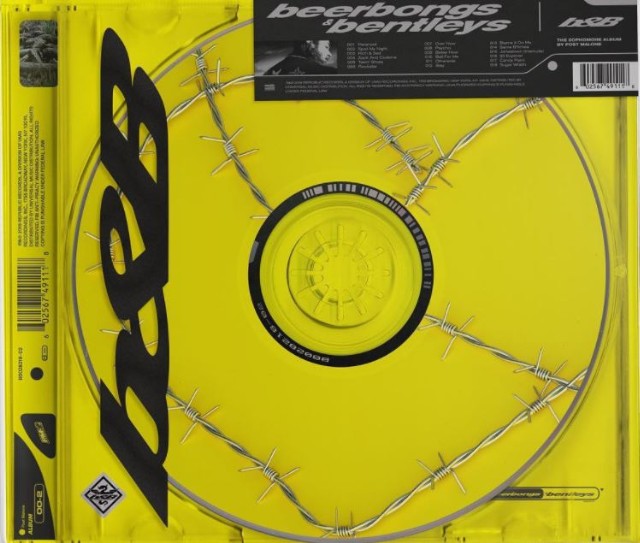 Post Malone's album "Beerbongs and Bentleys" is heart breaking but satisfying, leaving listeners wondering why he is full of so much sorrow and guilt, but also able to bring a hype beat to the songs.
Although trap music can sound similar with its repetitive beats and lyrics, Post Malone has found his own style in the trap genre, and he makes it work by using pure emotion to amplify his songs.
Post Malone is a fairly recent musician, first popping up in 2015 with his hit "White Iverson." He released a couple of singles in 2016 which he put on his first album "Stoney" which went platinum.
Come 2017 he released three singles, "Candy Paint," "Psycho," and "Rockstar," the last of which became the No. 1 song on The Hot 100 play list, receiving platinum status.
After those songs were released, Post Malone released his "Beerbongs and Bentleys"—which featured those singles—and the album immediately blew up and reached platinum status in only four days.
The album is mostly a compilation of songs such as "Rich and Sad" and "Blame it on Me," which are about girls he has either mistreated or who have mistreated him
In "Rich and Sad," Post Malone sings about his newly found fame and riches, but also mentions that he has turned into a materialistic man who drove his girlfriend away due to his infatuation with the rich life.
Now he knows that buying her love is not the same as giving her his love, so he would do anything to get her back, even throw away the fame and wealth.
In "Blame It on Me," Post Malone is torn about taking the blame to the point that it makes him mentally and physically sick.
Throughout the song, he is fighting with himself saying "it's not my fault" but then later says "it's all my fault" admitting that he's been materialistic and not given his girlfriend love.
On the other hand, there are also songs that listeners can just vibe to and enjoy, for instance "Sugar Wraith" and "Better Now."
In "Better Now," listeners get a taste of what Post and his team can do rhythmically and lyrically, demonstrating his versatility.
Listeners who pay close attention see that it tells an intensely sad lyrical story about regret and heartbreak.
He mentions his old girl has moved on, but he tries convincing himself he's past it but he isn't hence the lyrics, "Listeners know I say that I am better now, better now, I only say that cause you're not around, not around," and "I was so broken over you. Life it goes on, what can listeners do."
On the track "Sugar Wraith," Post does an excellent job of hyping the listeners and getting them singing along to the lyrics.
The lyrics don't have as much of a meaning to them as others, but it doesn't matter because it makes listeners feel joy for him for becoming successful and achieving a goal not many others have achieved.
It's most definitely a feel-good turn up song that would be nice to listen to when on the road.
Is Post Malone's "Beerbongs and Bentleys," worth the hype? Yes, because it takes listeners on a personal and emotional roller-coaster through twists, turns, loops, and dives into his personal life allowing for the listener to react emotionally, yet at the same time vibe out to the hypnotizing melodies of the songs allowing for an enjoyable time.
New Rap Albums a Hit and a Miss
J. Cole's 'Kids on Drugs' disappoints
J. Cole's new album "Kids on Drugs," or "King Over Dose," is a disappointment. Much like his last album, he doesn't achieve his full potential.
Although lyrically J. Cole is far superior to other rappers, it as if he is overly confident in his skills, and expects everyone to appreciate his work because he has built a name for himself.
Yet every new album he comes out with seems to fall short of expectations. At the same time, the album isn't a total loss as it effectively plays out an emotional story of a life of drugs and loss.
Jermaine Lamarr Cole, better known as J. Cole, first started popping up in early 2007 with his debut album "The Come Up." By 2009, Cole was signed with Jay-Z's Roc Nation label.
J. Cole's family life changed drastically after he left to college: his step-father became abusive, and after the divorce, Cole's mother became addicted to crack. These events inspire most of the music he writes.
By 2014, Cole's third album, "Forest Hills Drive," reached the number one spot on the Billboard 200. Later in 2016, he released his short album "4 Your Eyez Only" and reached the number one spot on the Billboard 200. After the release of this album, Cole went dark until his latest album release.
"K.O.D" has been a great disappointment compared to some of his previous albums. In Cole's new album he has a split personality that he named "kiLL edward" who sings on some tracks. The problem with this split personality is that kiLL edward is not a good singer and uses auto-tune on his voice to change it, and it comes out sounding horrible.
For instance, the song "The Cut Off" featuring kiLL edward is emotionless and repetitive. In a monotonous way he says "Gimme drink, gimme smoke, Get me high, let me float, I'm a cloud, comin' down, Put me down, gentle now, Gimme drink, gimme dope, Bottom line, I can't cope, If I die, I don't know." The way it is sung with a terrifying voice makes the song worse, not allowing the listener to enjoy it and instead having the opposite effect: making listeners want to skip it.
In "Motiv8" he starts the song with a lazy attitude and the refrain is just "Too many times I swallowed my pride, get money, I'm crackin' a smile, I'm dyin' inside, my demons are close, I'm tryin' to hide, I'm poppin' a pill, I'm feelin' alive, I'm feelin' alive."
The horrible lazy monotonous tone of his delivery makes listeners want to skip over the track.
Although most of the songs are bad, the album does provide some listenable tracks such as "ATM," "Kevin's Heart," "Once an Addict," "Window Pain," and "1985." These songs take listeners back to J. Cole's better days.
The song's not only provide a sick beat, but also go back to his lyrical genius. Basing these off his experiences, he shows he has more potential than he has shown in this album.
Overall, the quality of J. Cole's music has gone down, but hopefully he doesn't stay this way because it would be a waste of potential. If he were to put more effort into his songs and go back to the good old days, he could go back to being one of the best artists in this new rap generation.