Vaskes continue wrestling legacy
The Vaske family all shares the same passion for one sport: wrestling. Boys and girls alike in this family wrestle—or have wrestled—for the Boone wrestling team.
According to Atheir coach, they have more in common than just a last name.
"(The Vaskes) rarely miss practice and are always striving to be better wrestlers and people," said Andy Sherlock, who has coached the Boone County wrestling team for 12 years. "They all support one another and their teammates."
Sherlock has coached all four of the Vaske siblings (Chris, Cordell, CeJay and Caitlynn.) Caitlynn Vaske was his first ever state finalist as a coach at Boone.
She went to the Kentucky Girls State Wrestling Tournament unseeded on Feb. 2, and wrestled the top three ranked girls at the tournament. After beating both the second and third ranked wrestlers, she lost 4-2 against the top-ranked wrestler in the finals.
It is not just her family history that has helped drive Caitlynn Vaske to success.
"My favorite part about wrestling would be the discipline," said Caitlynn Vaske, who is the only girl on the Boone wrestling team. "This sport appeals to me because it gives an opportunity for girls to show that they can do anything a guy can."
The Vaske kids' father and uncles wrestled throughout high school, which encouraged Chris Vaske (the oldest) to wrestle for Boone. Then came Cordell, CeJay, and Caitlynn Vaske.
CeJay Vaske, the second youngest, placed third in regionals on Feb. 9, and advanced to the state championship contested on Feb. 15.
"My favorite part about wrestling is the relationships that are built," CeJay Vaske said.
He also said he loves having his sister Caitlynn on the team with him, and she makes him better.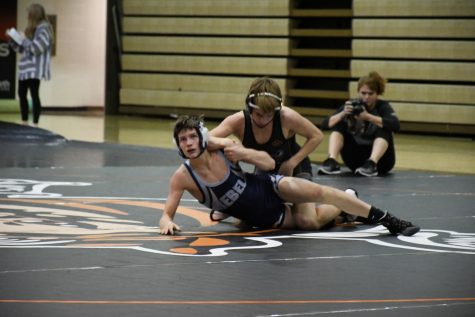 "She finds my flaws and uses them against me," CeJay Vaske said. "As I did to Cordell."
Cordell Vaske, the second oldest, graduated in 2018.
Although it may seem really unbelievable to have so many wrestlers in one family, both Caitlynn and CeJay Vaske love it because they have gotten to meet so many new people.
CeJay and Caitlynn Vaske are following wrestling brothers, uncles and dad