'Thank U, Next' is a surprising, satisfying follow-up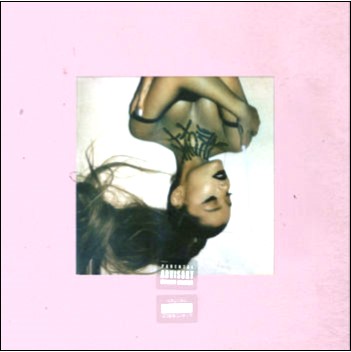 Zoe Collins, staff writer
March 28, 2019
Hang on for a minute...we're trying to find some more stories you might like.
Just six months after Ariana Grande released her fourth studio album Grande released her fifth, "Thank U, Next" and it's broken records.
"Thank U, Next" debuted at No. 1 on the Billboard 200 and the album also broke the pop genre record for most album streams in a week.
Grande also now holds the record for most songs in the Top 40 at the same time by a female artist. She also simultaneously claimed first, second, and third on the Billboard Hot 100, becoming the first act to achieve the feat since the Beatles in 1964.
Grande's previous album, "Sweetener," was packed with hits that could have sufficed on their own. "Sweetener" demonstrated an ambitious artist crafting a self-consciously wide-scale pop statement.
Across songs like "The Light Is Coming," "No Tears Left to Cry," and "Breathin," Sweetener taught Grande's fans that bad times are temporary and conquerable.
But Grande went back to the studio while her energy was raging and thriving, and she busted out another album in just two weeks. "Thank U, Next" is just a woman and a mood, the representation of an artist moving on and getting their stuff together again and gaining independence.
There's no doubt that Grande has been through a lot, especially in the last two years: the Manchester bombing, Mac Miller's death, and a whirlwind engagement that turned into a messy public split.
"Thank U, Next" is her response, reflecting her new determination to move fast and keep it spontaneous, finding the happiness underlining the sadness.
The title track was released as the lead single with no prior announcement, and no one was expecting more than a shady song filled with disses to her exes, but it proved to be a song filled with maturity and grace. " One taught me love, One taught me patience, And one taught me pain, Now, I'm so amazing," she sings.
The title track peaked at number-one of the charts of 12 countries, breaking a string of records, including the record for the most plays in a single day by a female artist on Spotify.
The song also became Grande's first number-one single on the US Billboard Hot 100.  Its accompanying music video was released on Nov. 30, which broke the records for both the most-watched music video on YouTube within 24 hours and the fastest Vevo video to reach 100 million views on YouTube.
"Thank U, Next" is an album that is packed with Grande's authentic emotions and experiences.
In "Ghostin'" she sings a ballad about death, grief and recovery following the death of her ex-boyfriend Mac Miller, Grande also samples Millers song "2009." "I'm a girl with a whole lot of baggage," she sings.
"Bloodline" goes for it with a stern warning for a hookup partner expecting more than a hookup:  "Don't want you in my bloodline, yeah, Just wanna have a good time, yeah."
"In My Head" delivers devastating lines near the chorus ("Look at you / Boy, I invented you / Gucci tennis shoes / Running from your issues / Cardio good for the heart / I figure we can work it out") but the song is really about learning not to look for more from people than they're willing to do for themselves, not tearing them down for turning out differently than you would've liked.
"Thank U, Next"  is also an album about getting other people to measure their expectations of you.
For example, "Fake Smile" is a heartbreaking tune  in which Grande speaks honestly about the pitfalls of being a public figure. She goes into detail about things like the events she'd rather avoid than attend, the parade of disheartening headlines about her private life, and the idea that while she's happy with her career, she's burned out on the stress that comes with it.
"Needy" concedes that Grande can be draining. "Sorry if I'm up and down a lot, yeah, sorry that I think I'm not enough, and sorry if I say sorry way too much," she sings.
By now Grande has figured out her sound, and the music that makes her fans and herself happy. But the pop appeal that "Thank U, Next" brings to the table has the possibility to attract new and old fans.