Boone's athletic teams will soon all wear Under Armour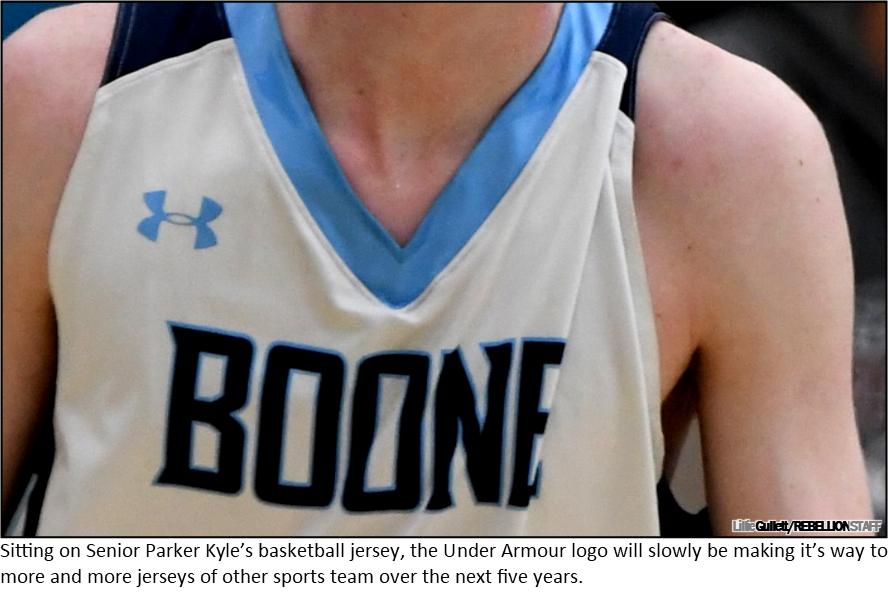 Last month, the school administration went public with the news that Boone was now an Under Armour school.
The statement, while exciting, left many questions for both the students and faculty.
So what exactly does this change bring to Boone?
According to Principal Schlotman, the change will not be abrupt.
"Over the course of the next five years, we'll be wearing all Under Armour," said Schlotman.
This means that the change will not be taking full effect at once but over the next five years as existing uniform contracts expire.
The nonbinding agreement the school has with Under Armour starts in July of 2019, according to athletic director Marty Steele.
Steele also revealed that Boone will receive incentives for switching to Under Armour.
"I think it's great for the school," Steele said.
Some students embraced the change.
"A lot of people like Under Armour, so I think it will be nice for a change," junior Layla Alzatout said
Others aren't so sure about it.
"I think it takes away the uniqueness that makes BCHS different," Sofia Thomas said.
Some also wondered if the change would affect spirit wear rather than just athletic uniforms.
While Under Armour products are available through spirit wear fundraisers, other brands will not be discontinued. The change is only affecting athletic uniforms.
Currently, Boone's teams wear a variety of different brands, including Nike, Adidas, and Under Armour.