Therapy dog training to serve students
Newfoundland poodle Renee brought to Boone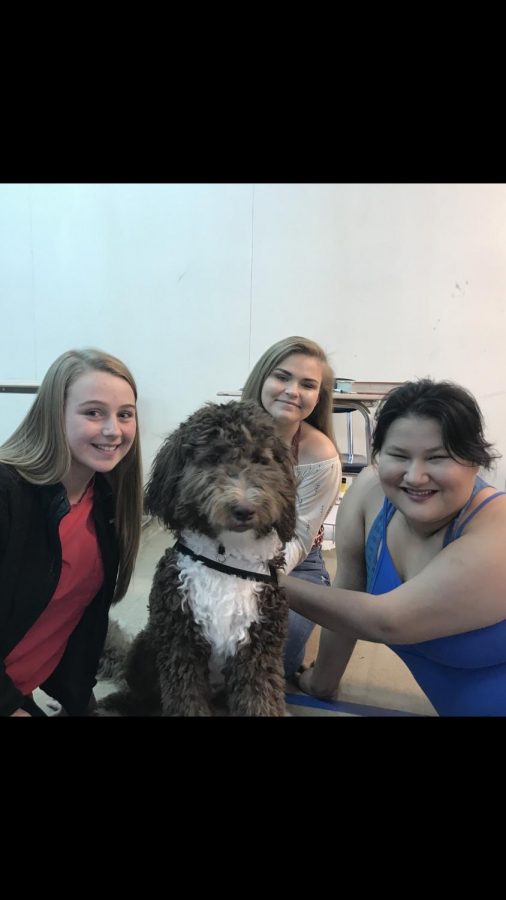 Peter Mendenhall, staff writer
April 27, 2019
Something new, fluffy and adorable is coming to Boone.  Boone is getting a new therapy dog.
Renee is a 9-month-old Newfoundland poodle who is currently in the midst of her training to become a therapy dog.  Cheryl Mullins, Renee's owner and Boone behavior specialist, decided a therapy dog could benefit students after working with students with behavior disabilities.
She works in the EBD room, a resource special education room for students that have a behavior disability.
Renee has passed her canine good citizen test, which shows she is well mannered and has a good temperament.
Renee is currently in a 16-week long training course.  At the end of it, she will test for an official therapy dog license with the American Kennel Club.
Mullins says she knows how helpful therapy dogs can be and how they are known to be able to calm students.
Sophomore Kendall Rottinghaus has been around Renee two or three times.  She felt that petting Renee and being around her made her "happy" and "calm."
Renee is not currently at the school full time.  She has only been in the school four or five times, including Celebrate the Arts Night.
She should be in the school full time next school year.  Renee will start out in the areas near Mullins' classroom before she is introduced to the rest of the building.
"I want everyone to be able to meet her." Mullins said.
Renee will be available to all students once she is acclimated to the building full time.
Renee is hypoallergenic, so students do not have to worry about allergies.
The students who have met her enjoy being around her.
Junior William Parker said "She's nice. She's pretty."