Fall Sports Review
Boys Soccer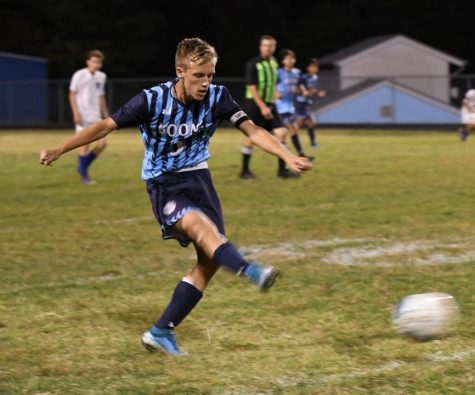 The varsity boys soccer team started off the season strong and finished with a 7-7-3 record. They won three more games this year than they did last year.
A key reason for the team's success came from senior midfielder Brendan Hughes who lead the team on and off the field
Head coach Suli Kayed said Hughes was a captain who led by example.
"He stayed committed, engaged, and he took on responsibility when needed during the season," Kayed said. "He was the voice of the players."
It was also an impressive year for senior midfielder Dan Likiko. Likiko scored nine goals in only 10 games this season. He also tallied five assists.
Girls Soccer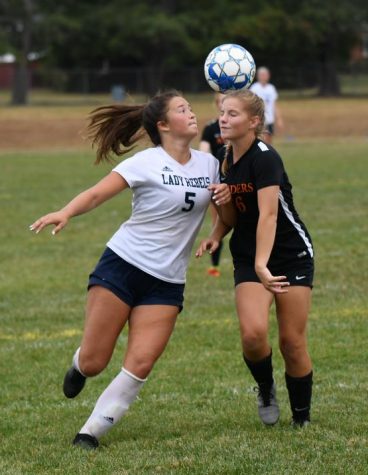 The varsity girls soccer team finished the season with a 5-12-4 record without any seniors.
Junior midfielder Raygen Black gave a big boost to a young varsity squad this year and head coach Mike Hughes took notice.
"Raygen has the ability to play multiple positions on the field in a match," Hughes said. "She is extremely hard working and she has game intelligence."
That hard work paid off this season. This is the second season in a row in which she has scored 20 goals.
"Raygen has the ability to score goals from anywhere within 25 yards of the goal," Hughes said. "Her work ethic and love for the game make her a great teammate."
Volleyball
The varsity volleyball team finished the season with an 11-20 record.
Senior outside hitter Sofia Thomas, libero Niah Drayton, and libero Madison Gilbert led the team.
Sophia Thomas averaged 3.16 kills per game, and recorded 183 kills total. She also added 184 digs.
Niah Drayton recorded 195 digs this year, which was the most on the team.
Madison Gilbert notched 366 assists, 111 digs, and 27 service aces as well.
They defeated Heritage Academy 3-0 in the district tournament before losing to Ryle 3-0 in the semifinals.
Boys Cross Country
It was a successful season for the boys cross country team. It was also a fulfilling year for senior captain Owen Cernetisch.
Cernetisch has been the captain of the cross country squad for three years and his leadership qualities have benefited his teammates according to his coach.
"The captain doesn't always have to be the best on the squad, but has to be the best leader," said head coach Kelly Read. "In Owen's case, he was our best runner as well as a great leader."
Read said that even when Owen couldn't make it to races, he still found a way to cheer on the team.
Cernetisch finished 119 out of 299 at the state championship in Lexington to end his career.
Girls Cross Country
Sophomore  Natalie Curry was a valuable asset to the girls cross country team this year.
Curry started running in the sixth grade and she hasn't stopped since.
"Natalie is very dedicated, committed to conditioning on her own and attending camps during the off season," said head coach Molly Petty. "She is constantly striving to be a better runner and has a great work ethic.
"She is a very talented runner and led the team all year. Her work ethic serves as a great role model for others on the team!"
Curry's best five kilometer time this season was 21:39, which means she ran 8.61 mph for the duration of the race.
"I think (running is) fun, and it's a great way to stay fit," Curry said.
Football
The varsity football team finished the season with a 2-8 record.
Junior running back/linebacker Evan Curee, junior linebacker Dave Bodenbender, and senior running back/defensive back Eli Rossi lead the team on offense and on defense.
Curee recorded 285 rushing yards and four touchdowns. He also recorded 78 tackles on defense.
Bodenbender finished his season at Boone with 78 tackles, eight tackles for loss, and two sacks.
Eli Rossi rushed the ball 40 times for 223 yards and three touchdowns. He also had eight receptions for 88 yards and a touchdown.
Boys Golf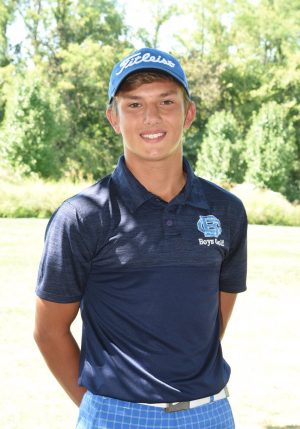 The varsity boys golf team finished the season with an 11-2 record.
A major contributor to the team's success was senior Dakota Finn. Finn has been part of the varsity golf team since his freshman year and he left it all out on the course in his final season.
Finn was the medalist in 11 out of 12 of the matches he played in this year. He shot a 76 to finish sixth at the regional tournament to qualify for the state championship.
Finn shot an 82 at the state championship to end the season. He hopes that his golf ability will earn him scholarships, so he can continue playing at the next level.
"I made some great friends playing," Finn said. "I will miss my coach the most when I leave here. He was a great mentor."
Girls Golf
Coach Todd Krohman said that all four members of the team were able to step up and contribute throughout the year. They all continued to lower their scores throughout the season.
Junior Becca Bowman made a statement this year and she was deservedly named the biggest contributor to the team.
Bowman recorded the teams only birdie this year and tallied up the most pars.
She was able to compete in the conference and regional tournament where she posted a score better than a third of the field as well.
According to coach Todd Krohman, Boone had not had a lady golfer compete in said tournaments in the past four years. "This is a testament to Becca's passion for the game and willingness to want to get better," he said.