Rocketing into New Territory
Boone's new esports team begins debut season with six Rocket League squads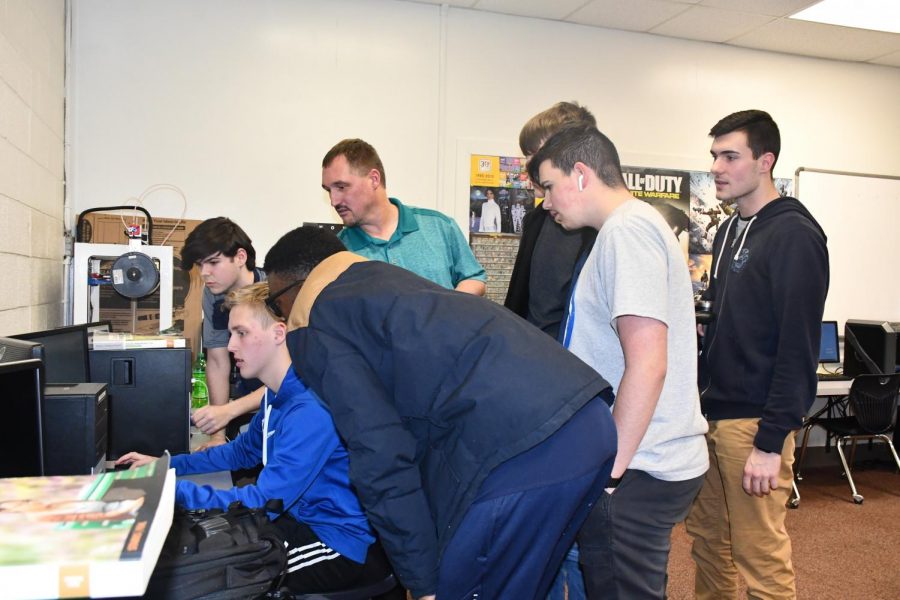 Boone students can now represent the school's Rocket League esports team which began its very first season in February.
Rocket League is a video game that shares a resemblance to soccer as two teams compete to see who can score the most goals in a 5 minute time period.
The main difference from real soccer though is that instead of people, it's gamers controlling turbo boosted cars.
While the game only offers singles (1v1), duos (2v2), standard (3v3) as competitive game modes, the team has 20 players. The team is separated into six teams of three with two subs.
Coach Mike Hughes gave a run down of how having six teams works out.
¨All six teams play around the same time which is 4 p.m. every Thursday, but they may compete against different schools or programs,¨ Hughes said. ¨We are a team, but they all compete for the best record because only the top team from our school goes to state.¨
Hughes also spoke about why it may be special that Boone has an esports team.
¨While Ryle does have a club, we are the only school in the district to offer students the opportunity to join an esports team,¨ Hughes said. ¨Our school is basically the region for our six individual teams.¨
Even though there are 20 players on the team, each practice still benefits everyone with how they train. During each practice, teams will constantly run scrimmages and other practice modes to help improve their teamwork and create strategies.
Hughes also mentioned how the team helps some of the newer players who may not have as much experience as the others.
"For some of the newer players, they practice through the training mode so they can better learn how to play the game and become a more experienced player," Hughes said.
When it comes to the actual matches, they are played in a best of five format, so the first to win three games, wins the match.
The team played their very first match on Feb. 20th with each team of three playing against a different school.
With it being the first esports event Boone has held, there were obviously going to be some things that worked like they should, while others that needed some fine tuning.
During their first official game, the team experienced an issue where they were at first unable to connect with the other team. Eventually they were able to get the matches underway.
When asked about the possibility of different games taking place with the esports team, he said it has to do with an approval from the school board.
"Rocket League is the only game that has been approved so far ratings wise," Hughes said. "It will take time, but we are looking to add more options to play in later years."
Regular season matches are played every Thursday at 4 p.m. and are open to anybody who wants to come watch, and take place in room 218.