Boone County among Kentucky counties affected by sharp increases in COVID spread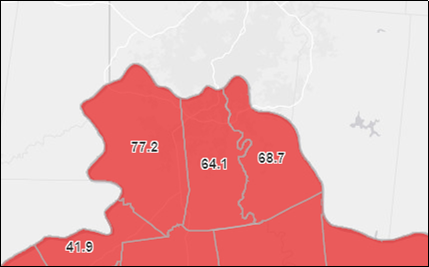 COVID-19 is a virus that is affecting the entire world, including the state of Kentucky. Kentucky's COVID infection rate has turned the state into a critical/red state meaning that there are more than 25 daily new infections per 100,000 people on average. 
Since Oct. 13 the state of Kentucky hasn't been doing anything but climbing in cases. According to CovidActNow.com, the state crossed into the critical on Oct. 21 with 25 daily new infections per 100,000 people. As of Nov. 21, Kentucky is averaging 61.5 daily new infections per 100,000 people.
There is a large uncontrolled spread through the state, and it has now turned over 100 of the 120 counties to the "red zone." If things do not get better, the Kentucky Governor Andy Beshear said that things will become more strict and regulated. 
"We just need more people day in and day out doing the right things," Beshear said.
Some of the proper precautions to take are to wear a mask, to wash hands frequently, and to maintain a safe distance from people while in public. 
Beshear has assumptions about why the state's cases are increasing. In August and September, cases of COVID started to grow in the state due to the attendance of school and sports finally taking place.
Over the course of October and November, cases went up due to the holidays approaching and there being gatherings of more than 10 people. Cases also climbed because colder weather is sending people inside.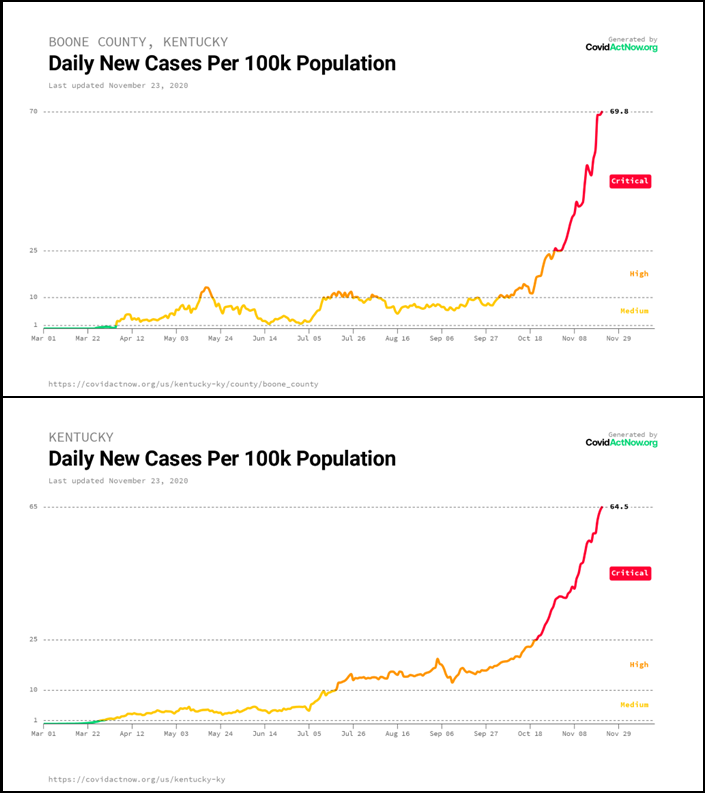 COVID is also taking a toll on Boone County.
In late October, Boone County entered the red zone and joined the majority of the state. As of Nov. 21, Boone County had an infection rate of 69.8 daily new cases per 100,000 residents according to CovidActNow.com.
This spike in infections resulted in district leaders deciding to return to virtual learning until Nov. 30 in Boone County. Then on Nov. 19, Governor Beshear issued an executive order that will keep high school students in Kentucky on virtual learning until Jan. 4.
This is now the second time that students have been learning from home in the 2020-2021 school year.
Winter sports have also been affected. The KHSAA Board of Control voted to postpone all winter competition until Jan. 4. Winter sports practices have been canceled, and cannot resume until Dec. 14.
Lance Melching also contributed to this story.