First year band field commanders deal with new role during pandemic
From athletic teams to academic clubs, seniors or juniors are often found in positions of leadership. 
However, there are always a few instances where underclassmen have been the ones to rise up and guide their club to success. 
That seems to be the case for the marching band, where sophomore Kim Furlong has joined junior Tammy Cordell in serving as field commander. 
Band director Daniel Barnhill referred to field commanders, also called drum majors, as the top of the band's student leader hierarchy.
As field commanders, Cordell and Furlong lead the marching band as conductors during parades, halftime shows, and all other marching band performances.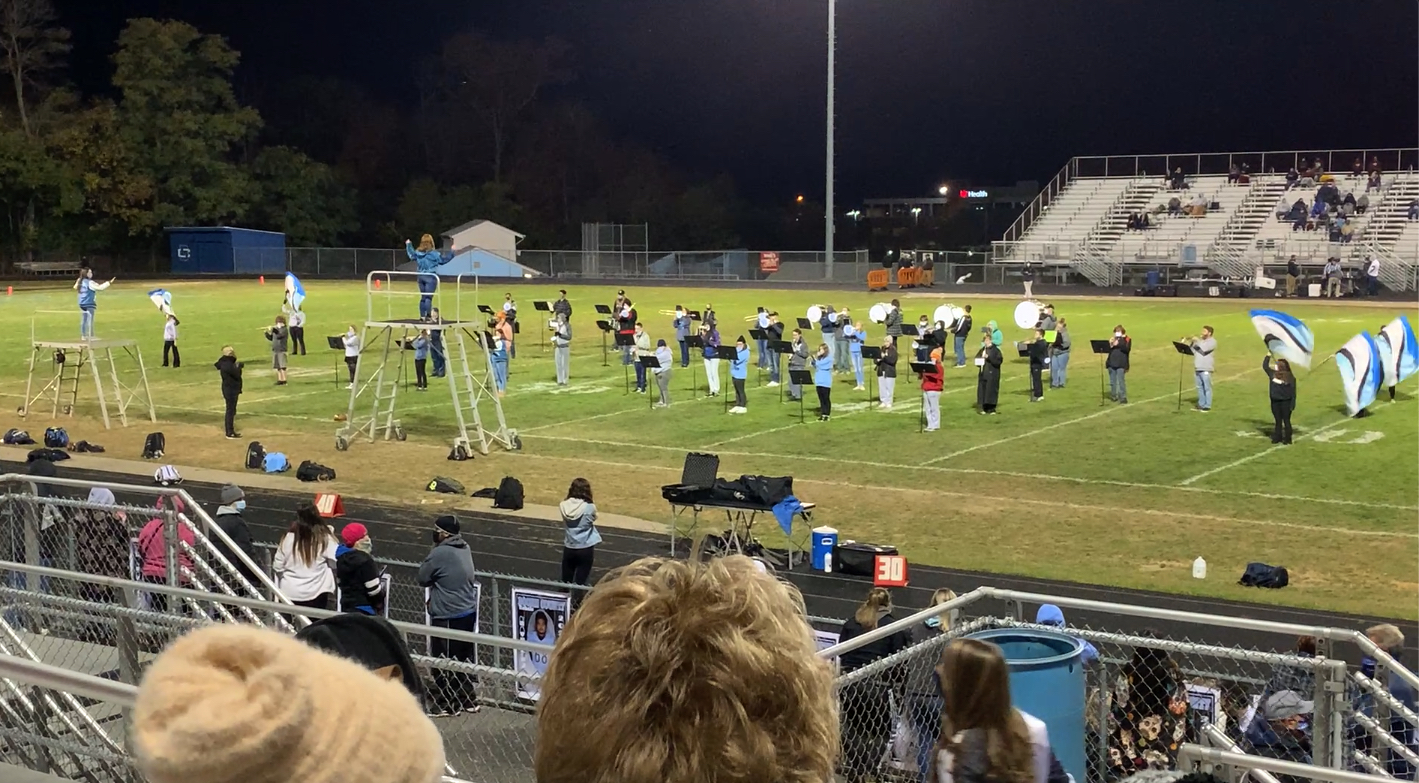 They are the ones seen conducting the marching band on the podium during football halftime shows, as well as the ones conducting the pep band on the bleachers. 
"Both Kimberly and Tammy are outstanding students and musicians, which made them perfect for this role," said Barnhill. 
The audition process to earn this title is quite lengthy, according to Furlong.
She said that it includes giving a speech, conducting the national anthem, and leading a Q&A session. 
Barnhill also mentioned that drum majors must maintain a high GPA, have near perfect attendance, and get letters of recommendation from teachers. 
"If they receive enough points, they are awarded the position of drum major," said Barnhill. "Then, they have to attend a one-week drum major camp at the beginning of the summer where they learn various leadership and conducting skills."
The Drum Major Academy held at EKU was canceled this year due to COVID, which Furlong said she especially needed as an underclassmen. 
Field commanders are a role typically held by upperclassmen, since they tend to have more band experience under their belt. 
While there have been a few other sophomore field commanders in the past, it is certainly challenging to earn that leadership role at such a young age, said Barnhill. 
For Furlong, her age and lack of experience has brought about a few challenges that older drum majors may not typically face.
Even Cordell, Furlong's co-field commander, is considered a sophomore in the Boone band program, as this is only her second year at the high school.
"Being an underclassman has made this role more difficult because I don't have as much experience with marching band as the upperclassmen," said Furlong. "The previous drum major graduated last year, so he isn't here to show Tammy and me the ropes."
COVID-19 has also played a part in making Furlong and Cordell's responsibilities a little more difficult and unusual.
Furlong said that the pandemic has "changed (her) experience as a drum major in so many ways."
Due to less frequent practices, no Boone band camp, and the canceled Drum Major Academy, she got much less training than she normally would. 
Fortunately, Furlong said that she and Cordell were able to work past all these challenges.
Furlong also mentioned that she hasn't been able to march in any parades, wear her uniform, or be as social with her team due to social distancing. 
Looking on the bright side of these changes and challenges, Furlong said that her favorite part of being field commander this year is working with Cordell and learning more about music. 
"I've learned a lot from this position, and I can see it reflect in my musicianship and leadership skills," she said. 
Furlong said that despite the short and odd season, it was still very enjoyable and that she is grateful that she got to serve the band with her position. 
"I want to give credit to all the band members for doing a fantastic job with the music under extraordinary circumstances and making our job easier," said Furlong. "I'm thankful (the band) accepted me into this position."
In addition, Furlong said that it has been amazing to have Cordell as her co-drum major. She said that the two have worked extremely well together and that she is looking forward to a more normal experience next year.