Magic for Muggles
Harry Potter experience brought to life for fans at 'Wizarding World'
I experienced the Wizarding World of Harry Potter come to life when I walked through the portal of bricks at Diagon Alley at Universal Studios in Orlando, Florida.
As I walked down the wet cobblestones, familiar stores like Ollivanders, Weasleys' Wizard Wheezes, and Madam Malkin's Robes for All Occasions towered over me.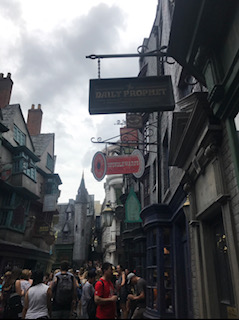 I was there for my 11th birthday, and it was a surprise from my parents since they knew I was—and am still—a huge fan of the Harry Potter series. The books mean so much to me and are an adored part of my childhood.
Diagon Alley was full of bright colors and immersive details that brought J.K. Rowling's imaginative world to life. It was almost identical to the movies, and everything seemed so real.
For example, Gringotts Bank sits in the back of Diagon Alley with a huge white dragon breaking through the glass on top. While guests walk around Diagon Alley, the dragon breathes fire overtop of the shops every five minutes.
It's an impressive effect, but it was something I tried to avoid with the Orlando weather being 90 degrees and humid.
The inside of Gringotts is covered in white marble and crystal chandeliers while the trolls count gold coins at their desk, just like in the books. But this is just the beginning, as I was about to experience the ride "Escape from Gringotts," which is based on the seventh book "Harry Potter and the Deathly Hallows," when Harry, Hermione and Ron break into Gringotts to steal a magical item.
I entered the cave underneath Gringotts and immediately saw the large cart that resembles a rollercoaster. When I sat, I was buckled down and took a journey through cavernous passageways that lead deep underground while virtual versions of Harry, Hermione and Ron helped me navigate through multiple security measures.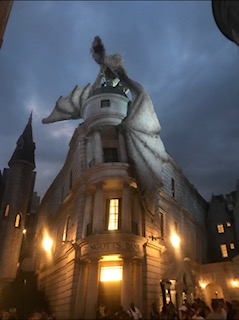 The ride "Escape from Gringotts," uses special technology that creates an illusion that riders are experiencing what the characters are. For instance, Bellatrix Lestrange uses a spell to drop riders on the cart, but it's actually the coaster doing it.
After I rode "Escape from Gringotts," I got frozen butterbeer that comes in a reusable cup. I thought it was a perfect sweet treat to cool me off, but it was also so neat to finally be able to taste what the characters drank in many books.
While I was in Diagon Alley, I also went to Ollivander's, which greeted me with wands stacked from the floor to the ceiling and the smell of old books and wood. Everyone who pays for the experience receives a wand, but some get chosen for a custom wand.
Though my chances of being chosen were slim, I was hoping that I would get a custom wand. Somehow I got chosen to meet one of the cast members and get my own custom wand.
I was able to enter Ollivander's back room and try out three or four wands before I got the right wand: it was 11 inches with wood from a cedar tree with a dragon heartstring and a blue orb at the end.
But the wand was more than just a trinket. I could use my wand in different spots around the park that let me do things like turn on water and make a feather fly.
After Diagon Alley, my family and I visited the home of Hogwarts: Hogsmeade.
I was shocked at how large Hogwarts was because it looked smaller from the parking lot. It also looked exactly like the movies.
My favorite ride in Hogsmeade is "Harry Potter and the Forbidden Journey," where guests actually go inside Hogwarts and see many iconic spots like Dumbledore's office, the Defence Against the Dark Arts classroom, the Gryffindor common room, the Room of Requirement, and more. I was in awe when I went inside of the castle because of details like the pictures that talked to me and the stairs above that moved.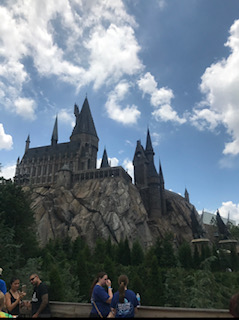 The ride itself is a suspended cart that carries four people as they soar above the castle grounds on a magical adventer with Harry and his friends. The ride featured many of my favorite characters and made it feel as if I were with them at Hogwarts.
It's been almost five years since my last visit to Universal Studios, but new attractions have been added.
There is a brand new ride called "Hagrid's Magical Creatures Motorbike Adventure" where guests join Hagrid in the Forbidden Forest on a roller coaster ride that plunges into the paths of some of the wizarding world's rarest magical creatures. This coaster passes Hogwarts grounds and features all new sets and props as riders go through abandoned ruins.
This coaster is the longest in Florida at nearly a mile long, and has the most launches of any roller coaster in the world with seven. It is also the first coaster in the U.S. to feature a free-fall vertical drop, dropping guests nearly 17 feet.
Even though the magic is created through computers and illusions, the "Wizarding World of Harry Potter" really is a magical experience that can make fans feel like a student at Hogwarts.