REVIEW: 'Nomadland' deserves all of the Oscar hype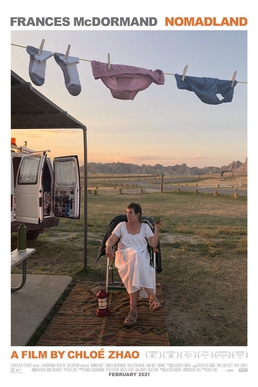 "Nomadland" reels you in with it's beautiful documentary-like footage of the vast western American landscapes and then sucker punches you in the face with its exploration of the human condition, leaving viewers in the end to question their own mortality and what truly means the most to them.
The film follows the tale of Fern, a recently widowed woman in her 60s who, after losing everything to the Great Recession, embarks on a journey to partake in the nomad-like "van-dwelling" culture of the West Coast.
Fern bounces from place to place, meeting new people who are ultimately eager to tell their story with each giving Fern something to reflect about in her own life.
Frances McDormand was absolutely breathtakingly brilliant as Fern, giving such a restrained yet convincing performance, all the while establishing herself as the anchor for the film.
Impressively, the movie includes an abundance of amateur actors, with many of the characters outside of the main cast being real-life West Coast nomads.
It's the little things that make "Nomadland" so remarkable; the people and the connections made, the stories told, the settings, all of it is so inspiring and real. 
A conversation between Swankie, an elderly nomad with cancer, and Fern perfectly encapsulates this.
Swankie explains to Fern that she only has 7-8 months to live, and in a heartbreaking and  incredibly sincere monologue, recollects the countless memories she made throughout her life as a nomad and details her plan to visit Alaska one last time.
The film broke ground at the 2021 Oscars, taking home a plethora of awards and making history in the process.
Chloé Zhao, "Nomadland's" director, became the first Asian woman and second woman ever to win best director (the other being Kathryn Bigelow for "The Hurt Locker" in 2010), and Frances McDormand won best actress.
The film also won the coveted best picture award.
"Nomadland" is a film about healing. It teaches viewers that the hardest parts of life can lead to the most fulfilling, and that loss is a necessary part of living.