First hall makeover nearly complete
As one hallway is finishing, students and teachers prepare to move into new rooms
The renovated freshman hallway is set to reopen soon, which means teachers will be moving in from the cottages and sending another hallway of teachers outside so their classrooms can be renovated.
When hallways are being renovated, teachers in those hallways are moved out to the mobile classrooms known as the cottages.
It's a long moving process, but English teacher Chelsea Cahill says teachers and students are making the best out of it.
"It's a community out here," said Cahill, who has been in the cottages since August. "Everything is calm and peaceful."
That is a common positive that was shared throughout the interviews of all the teachers and students: they like that the cottages are peaceful and secluded from the building.
Other than the challenges of moving supplies out to the cottages or the journey to the bathroom inside the building, teachers say they are remaining positive and patient until they move into their own renovated classrooms.
Their students on the other hand had a mixture of feelings when it came to being asked about the cottages.
The students either thought it was too hot or too cold inside the cottage classroom. Inside the cottages, instead of the district controlling the temperature it's each teacher who does.
A common thing most students say they are looking forward to is no more journeys in and out of the building causing them to be late, but they will miss the pretty walk outside.
Sophomore Ronnie Miller dislikes the cottage classrooms. He feels the gray paint inside the cottages is "depressing" and is looking forward to being in the renovated classroom, expecting a change to come from it.
Even though a majority of the students had more negatives about the cottages, they all answered yes when asked if they thought the inconvenience of being outside would be worth having new classrooms in the end, and they said they are excited to see their renovated classrooms.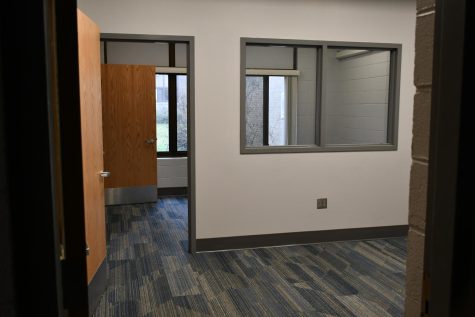 Teachers and students are mainly looking forward to the new technology that is going to be in the classrooms. ViewSonic Interactive Display screens are being put in every renovated classroom to replace the current smartboards.
These Interactive Display screens cost thousands of dollars each and have new enhanced features. The display screens are touchscreen that allow multiple people to write and draw all over the display at one time.
The new ViewBoard Display screens also have wireless content sharing. This feature can allow teachers to wirelessly share presentations and more from the ViewBoard to their student's devices.
Principal Stacey Black is most excited about this feature, hoping the screens will better help engage the students while learning.
Black said the renovation is running on a "fluid schedule," but the renovated freshman hallway should reopen after winter break.
The next hallway to be renovated, sending the teachers and students out to the cottages, is the upper back science hallway of rooms (rooms 224, 226, 228-233).