News of the Huh??? (December 2022)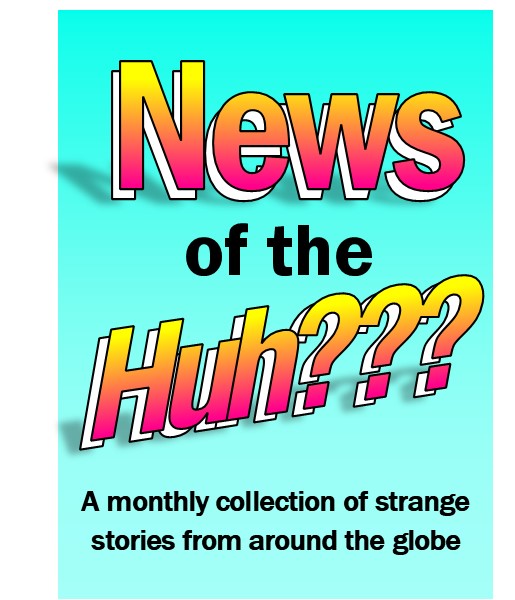 This IS the droid we're looking for
A Florida man was arrested after he stole a $10,000 replica of "Star Wars" character R2-D2 while posing as a Disney World Employee.
David Emerson Proudfoot, 44, of Kissimmee, Fla. has been reported as arrested on May 31 after he stole the droid from Disney World's Swan Hotel in an effort to get hired as a Walt Disney World Resort security guard.
The police claim that Proudfoot was spotted by the hotel's security pushing a cart on the property, and he was dressed in a Disney World name tag and an orange work vest.
Security sensed that something suspicious was happening, escorted Proudfoot to the Yacht Club Resort to get his belongings and driver's license from the employee lockers, and called law enforcement at that point.
Proudfoot presumably told the police that he had a pending application with Walt Disney World Security, and he was only moving the replica as an attempt to "show weaknesses in the security of the resorts" and held the hope that he would land a job at the resort.
Later, he confessed to breaking into three different arcade machines at Disney's Wilderness Lodge, Boardwalk Resort, and the Grand Floridian Resort.
Proudfoot was charged with one count of petit theft, two counts of grand theft, one count of scheming to defraud, and one count of obstruction by false information.
---
Nothing runs like a Deere (from the law)
The Okaloosa County Sheriff's office says Dusty Mobley, 40, was arrested on July 9 after this unusual police chase.
The sheriff's department said that deputies went to a Holt, Fla. home on July 10 to arrest Mobley for an outstanding warrant. Not going down without a fight, Mobley tried to flee on a John Deere ride-on lawnmower until the police caught up to him and used a stun gun to catch him.
Mobley was wanted by the police in relation to a theft of a $40,000 boat, which according to the deputies was stolen by a suspect that used heavy machinery to pierce a hole in the side of a metal building.
Deputies claim that they discovered Mobley on the boat in the same month, and that was when he had jumped into a swamp and escaped.
Mobley was charged with a chain of offenses that included two charges of grand theft, two counts of resisting an officer, felony criminal mischief, carrying a concealed handcuff key, possession of a concealed weapon by a felon, and possession of drug paraphernalia.
---
A waste of good meat
A Florida woman was arrested on Aug. 20 after reportedly throwing a piece of meat at her boyfriend of 20 years during a fight.
Rochelle Wright, 42, was charged with domestic assault according to a criminal complaint.
Police claimed that Wright and the male victim have been together for 20 years and share a child. They got into an argument while "intoxicated" in their home in Tarpon Springs, Fla. on Aug. 7.
Wright became infuriated and hurled a piece of uncooked steak at the seated man, according to the police. The police say that the steak missed her boyfriend and hit the armrest of the chair that he had been sitting on, and the wall behind him.
Wright confessed that she threw the steak because she was tired of how he was behaving and their arguing, according to the criminal complaint.
Wright was then arrested and booked into county jail on a misdemeanor charge, and was released on Aug. 8.
---
Now that's a mobile home
Some may say that unusual happenings in Florida are common, but this flying tent is definitely an odd sight to see.
Matt Dewitt, a meteorologist with WINK News in Fort Myers, posted a picture from a viewer of a floating upside-down tent. It has been said that it was spotted Oct. 26, over Iono, Fla.
"HOW CRAZY IS THIS?!" Dewitt captioned his Facebook post by saying, "Likely launched up by a surface whirlwind. Thankfully nobody was in it!"
Floridians along with users on social media were speedy with the jokes and puns.
On social media, one user said "Now THAT'S an AirBnB," while another commented "That's pretty in-tents!" and a third said their vacation left them "completely blown away."