News of the Huh??? (March 2023)
A monthly collection of strange stories from around the globe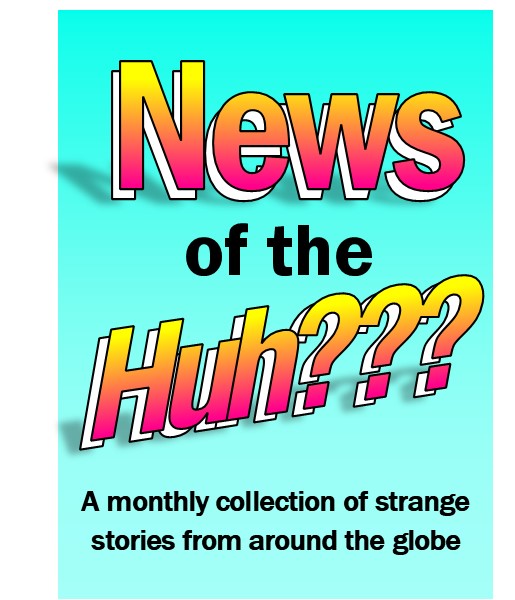 Well that's one way to relish the good!
After a fire left a West Virginia restaurant with heavy damage, an iconic hotdog statue has been returned after it was stolen.
The Kanawha County Sheriff's office said the "Wienerman" statue was stolen from the Dairy Winkle restaurant after the Jan. 11 fire.
Deputies  were led to a location by an anonymous tip and found the hotdog statue undamaged. After recovering the statue, the deputies returned it to the restaurant owner, Kerry Ellison.
The investigator's who are working on this case do not know the thief of the statue, and are seeking information.
The statue is back home, licking its lips, pouring ketchup on its head, and holding a mustard bottle.
Elison hopes for a speedy recovery of the restaurant, and is looking to open the restaurant back up later in the year.
---
Well that's relative insanity!
An up and coming TikTok health-kick star, Marcella Hill, informed her viewers on a topic that she accidentally married her cousin.
While carrying her baby, she and her husband started looking at ancestor's names so that they could name their coming baby. That's when things started to get odd.
In a New York Post article, Hill was quoted saying, "I was like, 'Oh look, grandpa's name, grandma's name, great-grandma's name, great-great-grandma's name.'"
The TikToker recalled, adding, "My husband was next to me on his own family search and was like, 'Oh that's funny — we have the same grandma and grandpa's names.'"
After setting their family trees side by side, they discovered that Hill's grandfather and her husband's grandmother were supposedly first cousins.
"So he calls his grandma and I call my grandpa and we ask them if they know each other … Sure enough,," Hill said.
After the confirmation, Hill and her husband realized that they are actually third cousins, but they have learned to deal with this relative insanity and stay together while raising their children.
Although the situation was awkward for Hill and her husband, they go to family reunions at the same time, which they consider a benefit.
After posting this, Hill received mixed feelings from followers, but in the end, Hill and her Husband/cousin are very happy together.
(Andrew Court/NewYorkPost.com)
---
Uni a license to fantasy!
A 6-year-old Los Angeles citizen, Madeline, ordered the Los Angeles County Department of Animal Care and Control to give her official approval to own a unicorn, if she could find one.
When Maedline's hand-written letter to the department was posted on Facebook, it showed that she wanted approval to keep a unicorn in her backyard if she found one.
The department responded by giving her a "pre approved unicorn license," but she  has to follow some orders to care for this magical pet.
According to the response from the department, the unicorn must have "regular access to sunlight, moonbeams, and rainbows."
Additionally, since it is hard to find unicorns in Los Angeles, the department gifted Madeline a stuffed unicorn toy with the license on the collar
---
Bone Appetit is pawsibble!
Doggy heaven?
A San Franciscian chef and dog owner has made a new dog paradise, Dogue, a place for a $75 multiple course meal for a man's best friend.
Of course the dog will enjoy this gourmet meal, but owner Rahmi Massarweh has made sure that dog owners also get pampered with a mimosa and baked treat.
There have been some complaints about the price point for the luxurious pet experience, but those who have been to Dogue have shown an overwhelming degree of support according to Massarweh.
Massarweh also makes sure that the pups get a truly exceptional meal, and makes every dish "human-grade." And the price point may seem extreme, but the ingredients and expertise put into the meal would cost around $500 for a human to consume.
"When we make our food, it is a process. It is very time-consuming. There is a lot of technique. There's a lot of method and detail to what we do," he said. "Our pastries, for example, take about two days on average to make. I know they're going to be eaten in two seconds," Massarweh is quoted as saying in an Associated Press article.
---
Now this deserves a round of appaws!
Spike—a 23-year-old chihuahua—has officially been named the oldest living dog by Guinness World Records as of Dec. 7.
Spike lives with his mother, Rita Kimball, on a farm in Camden, Ohio. Kimball discussed with Guinness World Records that she took Spike in nearly 14 years ago when she found him abandoned in a grocery store parking lot.
Kimball said that it was "meant to be" when Spike jumped right into the car.
Although he has won an award for being old, he acts young and active while visiting the other farm animals everyday.
Kimball also included that Spike has never met a stranger, and is friends with everyone he meets.
The Kimball family says they were surprised when he was named the record holder.
"I believe he is still here because, after having such a terrible life at first, he makes the best of every day and now sees his rewards in his later years," Kimball said.
The family says they are excited to celebrate this record-breaking furry friend.