2022 Spring Senior Showcase
With the spring sports season coming to a close, many seniors will be hanging up the cleats, spikes and sneakers for the final time. That means many spring sports programs will also be losing valuable members of their teams.
This senior class is defined by its leadership and vast improvement shown throughout the season. Whether they are hitting home runs, running 4x400s, or smashing service aces, these seniors have directly impacted their teams' success in many positive ways.
They grew as players, but also as teammates and mentors, and when things were not going their way, they found a way to lift themselves up and succeed even when the odds were stacked against them.
Softball
After winning the district and regional tournaments last season, the softball team sits at 8-15 leading into the final weeks of the season.
Led by seniors K.B. Irwin, Mia Nixon, and Abbey Sproles, the Lady Rebels are making the most out of a season in which five players are batting over .300.
Irwin boasts a .437 batting average along with 31 hits, and Mia Nixon is currently batting .345, while leading the team with 15 steals. Sproles has knocked in five runners on seven hits so far this season.
Irwin also leads the team in games and innings pitched, sitting at 20 and 90.1 respectively. She also has recorded 19 strikeouts.
The softball team will compete in the district tournament during the weekend of May 21.
Baseball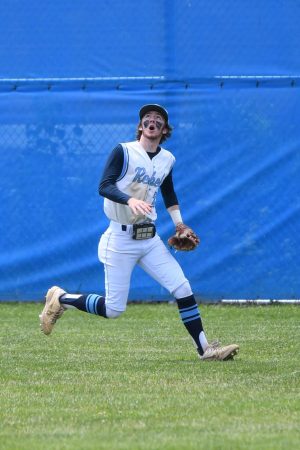 After a shaky start to the season, the varsity baseball team has started to heat up down the stretch.
Led by senior outfielders Isaac Vest and Justin Huff, the team has rebounded from their batting slump and given their pitchers much needed run support.
Vest, who committed to UC Clermont earlier this month, is currently slashing .315/.463/.493, and Huff, who is committed to Thomas More, is leading the team with a .366/.477/.493 slash line.
Other seniors on the team have also stepped up on the mound and in the field.
Seniors Jayden Wilson (UC Clermont), Tyler Krohman, and Jason Williams each sport a sub 2.5 ERA. Senior catcher Tommy Switzer and outfielder Jake Barth have also contributed in the field, preventing runs on defense.
The team has nine seniors in total and they will look forward to keeping their season alive in the district tournament in the coming weeks.
Girls Track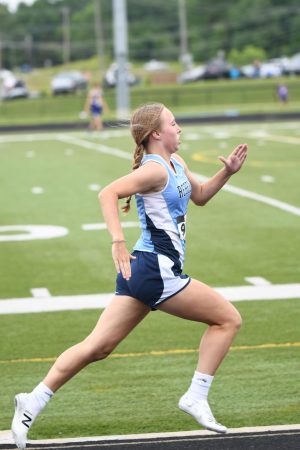 The girls track team is led by senior Hailey Carter. Carter has run track all four years, and she participates in multiple events, including the 100m dash, 200m dash, 400m dash, 4x100m relay and 4x200m relay.
Carter will run track next year for Indiana University Kokomo.
Head coach Cliff Riley has recognized the benefit she brings to the team.
"This is my first year as a head coach for girls' track, so having a runner like Hailey has been a huge help," Riley said.
However, the captain is not alone. Senior Emi Mullins, who is a first year runner, has cemented her spot on the team as one of the best runners, and routinely participates in each event  alongside Carter.
Riley described both seniors' effort as "second to none" and said both are striving to improve themselves each day.
Boys Tennis
The boys tennis team features two seniors this year, including Evan McQueary and newcomer Cory Hoffer.
McQueary has been a member of the program for four years, and led the team throughout his high school career.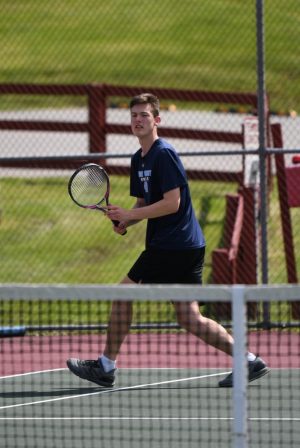 Head coach Greg McQueary has described Evan as a leader and valuable teammate. Not only has he produced during matches and tournaments, but he has also helped teach players different aspects of the game.
"Evan provides skill instruction, match strategy, sportsmanship and is a teammate players feel they can freely communicate with during the season," explained Greg McQueary.
Evan McQueary has also continuously dominated in the regional tournament throughout high school, winning multiple matches his freshman year and at least one match in the regional each season.
Although a late season addition, Hoffer has improved daily and participated in singles and doubles matches.
Girls Tennis
The girls tennis team features senior Alana Tinnell, who has been a part of the program since she was in the seventh grade, and has been Boone County High School's number one singles player for five years.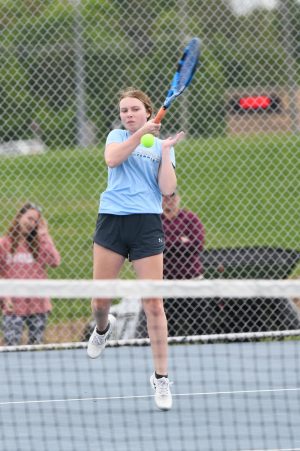 Tinnell's dominance has earned her much deserved recognition among her peers, being named a top 10 tennis player in northern Kentucky as a junior and as a senior.
However, her dominance does not stop there. Her dedication in her college classes has earned her an associates degree before she even graduates.
Senior Mackenzie Daniels is also a member of the team who has worked diligently on improving her craft and becoming a better teammate.
Boys Track
This year's boys track and field team has one of the largest senior classes in recent history at Boone. There are 14 total, including Skyler Sears, Dvion Davis, Michael Givner, Sahil Mohnani, Brent Houglin, Maury Kenny, Devin Raines, Colin Delaney, Conner Murphy, Gedeon Aenenanu, Kole Kriedler, Michael Lee, Noah Collins, and Stevan Burton.
On April 29, the team secured their best performance all season at the McNicholas High School Invitational in Cincinnati.
Led by Skyler Sears, the boys track team finished first in the 4×100. They then went on to secure second place in the 4×200.
They will look to continue their recent success at the regional track meet at Ryle High School on May 25