New assistant principal has worked at Boone since '97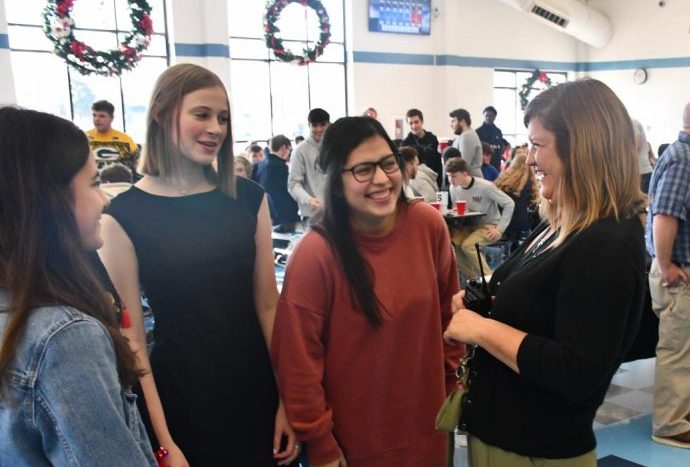 Stacey Black has walked in many shoes at Boone. She has taught many different English courses, been an instructional coach, and is now the newest assistant principal.
Black has worked at Boone since 1997, and it is the only place that she has ever taught. Her two oldest children graduated from Boone, and her youngest currently attends Boone.
She worked at Boone for 20 years as an English teacher and an arts and humanities teacher. Then she worked as an instructional coach.
Now this year is Black's first year as an assistant principal, where her number one duty is discipline and behavior.
She also helps teachers with curriculum development and implementation by collaborating with instructional coaches, as well as monitoring school and sporting events.
Black said that the most challenging part of her new position as assistant principal is learning about the policies and procedures that she must enforce, and what consequences relate to them.
She said that the most rewarding part of her new position as assistant principal is the students. Her relationships with her students are important to her, and she enjoys getting to know them and interacting with them.
Black said her favorite part of her job has been and always will be the kids.
"I like working with them and trying to figure out why they're acting the way they're acting, versus always putting the blame on the kid," she said, "Usually there's other outside reasons (affecting behavior), and so I think that's just as important as the discipline itself."
Black also enjoys how her new job is different everyday and she doesn't ever have a plan, because it is constantly changing
Her least favorite part of the job is having to go to school during summer break and on snow days.
Black's biggest goal as assistant principal is to support teachers by providing resources they can use to aid their students.
She wants to help teachers be able to evaluate students in a way that can help the teachers meet the students' needs.
She also feels that it is very important to ensure that the kids feel safe while at school by making sure that students know they have support from all of the staff.